What are the best suits for traveling?  What are the best wrinkle-free fabrics for suit and blazers?  These are some of the most common questions we get from our clients, many of whom spend as much time on the road as they spend at home.  Another question we hear frequently: how should I pack my suit when I travel?  In this post we will answer these questions, as well as provide some tips on how to mix and match outfits and make use of multi-match outfit combinations to reduce the size of your suitcase!
First, we'll take a look at the best fabrics to use for travel suits.  In our experience, there are two very different varieties of fabric that work best for travel suits, and each have their strengths and weaknesses.  The first is probably what most knowledgeable tailors would tell you: high-twist wool.  The second, and arguably better solution, is tantamount to a dirty word in tailoring circles: stretch wool (wool with a small percentage blend of stretch material like elastane or viscose).
1) High-twist wool basically relies on the physics of the wool fiber itself; because the wool fibers are tightly twisted in the fabric making process and, as a result, are compelled to untwist and release like a spring — the fabric's natural tendency to wrinkle is reduced when compared to other wools.  In our experience, high-twist wool is far more wrinkle-resistant than other high-end wools, but not as wrinkle-resistant as the stretch wools we've used. The main advantage of high-twist wools are that most of the high-end fabric mills (like Scabal, Dormeuil and Holland & Sherry) make high-twist wools so there is a great selection of fine suiting on the market.
2) In our experience, stretch wools make the best travel suits for wrinkle-free and hassle-free travel — but there is one major downside: it is almost impossible to find designer quality stretch wool.  Because synthetic fabrics like polyester, viscose and elastane are dirty words in the world of fine tailoring, few "brand name" fabric mills make stretch wool.  Not only does this make it difficult to find the fabrics, it also drastically reduces the selection of available colors and patterns in comparison to high-twist wool.  That said, at Ezra Cayman Bespoke Couture, we pride ourselves on our unmatched fabric selection, and we have sourced a beautiful collection of stretch wools for our clients, so hopefully you can find a tailor in your area who can do the same.  If you're looking for an almost truly wrinkle-free suit, and you're willing to accept a more limited selection of colors and patterns, then stretch wool is probably your best bet.
Second, we'll talk about packing tips: The first element of packing to dress well comes down to outfit planning and multi-outfit garment combinations; the second is much less exciting… how to fold a suit.  Since internet readers have the attention span of a goldfish, we'll start with the exciting part.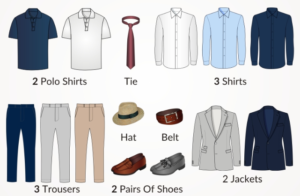 Outfit planning and multi-outfit garment combinations: We haven't seen your wardrobe yet, so we can't tell you what to pack.  But the diagram above should give you a good idea of what we mean by multi-outfit combinations.  There are only 10 garments, but you have 1 gray suit, 1 navy suit, 1 gray jacket with navy pants, 1 navy jacket with gray pants, 1 gray jacket with tan pants, 1 navy jacket with tan pants and a variety of shirt variances and casual shirt/pants outfits as well — easily two dozen outfits varying from boardroom to boardwalk, tucked away in a single duffle bag.  Whether you're one of our clients, you have your own stylist, or you're figuring it out on your own, this method should help you travel in style without checking a bag.
Now that you've put some outfits together, lets discuss how to pack a suit for travel: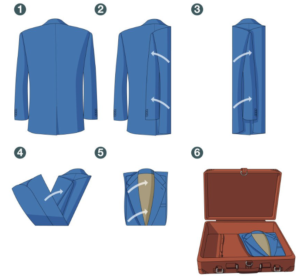 If you're traveling with a duffle bag or suitcase, there are a number of methods for folding a suit.  We prefer the method shown in the diagram above because it creates the least potential for creasing over the course of a long trip when compared to the other methods we've used.  And, because the folds that do exist are positioned near the elbow, stomach and sides of the chest, small creases will go unnoticed as they fall along the body's natural contours.  Use this easy 6-step diagram to quickly and easily fold your suit jackets for transport.
However, if you're traveling with garment bags (which is advised, if possible, because it puts less wear on your jackets and helps to ensure their enduring usefulness), we recommend using "the Savile Row Fold."  Our tailor on Savile Row in London, Maurice Sedwell, gives a great explanation of how to do it on their blog: "Simply hold your trousers by the ankles with the hanger between the legs at the thighs, fold one leg through the hanger and gently pull it down so that the hem rests on the crotch. Then fold the second leg over the first in the opposite direction through the hanger."
Now you're ready to travel in style!  Now that you you know which fabrics make the best travel suits, how to maximize your travel wardrobe through multi-outfit combinations and how to pack your garments to minimize the chances that you'll find yourself frantically running to your hotel's front desk in search of an ironing board before your next big meeting… now, my friend, you are ready to travel in style!